By Rachelle Saint Louis
January 1st, 1804 marked the birth of the first Black republic and only successful slave revolt. This new year I'll be celebrating Haitian Independence Day with my grandmother's classic Soup Joumou and taking part in the Haitian Readathon. If that sounds like something you'd be interested in, or you just want to check out some books by Haitian authors, here are 20 suggestions.
The following list has been divided into four categories: Literary Fiction, Young Adult Fiction, Children's Fiction, and Nonfiction.
Literary Fiction
Everything Inside by Edwidge Danticat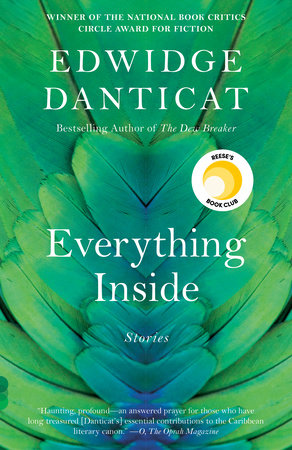 Synopsis: From the internationally acclaimed, best-selling author of Brother, I'm Dying, a collection of vividly imagined stories about community, family, and love.
Rich with hard-won wisdom and humanity, set in locales from Miami and Port-au-Prince to a small unnamed country in the Caribbean and beyond, Everything Inside is at once wide in scope and intimate, as it explores the forces that pull us together, or drive us apart, sometimes in the same searing instant.
In these eight powerful, emotionally absorbing stories, a romance unexpectedly sparks between two wounded friends; a marriage ends for what seem like noble reasons, but with irreparable consequences; a young woman holds on to an impossible dream even as she fights for her survival; two lovers reunite after unimaginable tragedy, both for their country and in their lives; a baby's christening brings three generations of a family to a precarious dance between old and new; a man falls to his death in slow motion, reliving the defining moments of the life he is about to lose.
This is the indelible work of a keen observer of the human heart—a master at her best.
The Infamous Rosalie by Evelyne Troulite
Synopsis: Lisette, a Saint-Domingue-born Creole slave and daughter of an African-born bossale, has inherited not only the condition of slavery but the traumatic memory of the Middle Passage as well. The stories told to her by her grandmother and godmother, including the horrific voyage aboard the infamous slave ship Rosalie, have become part of her own story, the one she tells in this haunting novel by the acclaimed Haitian writer velyne Trouillot.
Inspired by the colonial tale of an African midwife who kept a cord of some seventy knots, each one marking a child she had killed at birth, the novel transports us back to Saint-Domingue, before it became Haiti. The year is 1750, and a rash of poisonings is sowing fear among the plantation masters, already unsettled by the unrest caused by Makandal, the legendary Maroon leader. Through this tumultuous time, Lisette struggles to maintain her dignity and to imagine a future for her unborn child. In telling Lisette's story, Trouillot gives the revolution that will soon rock the island a human face and at long last sheds light on the invisible women and men of Haitian history.
The original French edition of Rosalie l'inf me received the Prix Soroptimist de la romanci re francophone, honoring a novel written by a woman from a French-speaking country which showcases the cultural and literary diversity of the French-speaking world.
God Loves Haiti by Dimitry Elias Leger
Synopsis: A native of Haiti, Dimitry Elias Léger makes his remarkable debut with this story of romance, politics, and religion that traces the fates of three lovers in Port-au-Prince, Haiti, and the challenges they face readjusting to life after an earthquake devastates their city.
Reflecting the chaos of disaster and its aftermath, God Loves Haiti switches between time periods and locations, yet always moves closer to solving the driving mystery at its center: Will the artist Natasha Robert reunite with her one true love, the injured Alain Destiné, and live happily ever after? Warm and constantly surprising, told in the incandescent style of José Saramago and Roberto Bolaño, and reminiscent of Gabriel García Márquez's hauntingly beautiful Love in The Time of Cholera, God Loves Haiti is an homage to a lost time and city, and the people who embody it.
The Three Musketeers by Alexandre Dumas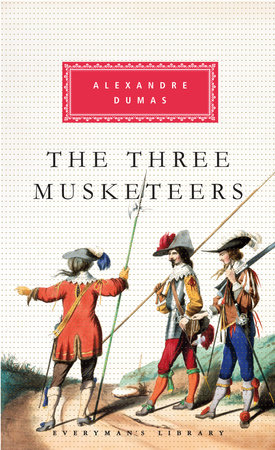 Synopsis: The Three Musketeers (Les Trois Mousquetaires) is a novel by Alexandre Dumas, first serialized in March-July 1844. Set in the 17th century, it recounts the adventures of a young man named d'Artagnan after he leaves home to travel to Paris, to join the Musketeers of the Guard. D'Artagnan is not one of the musketeers of the title; those being his friends Athos, Porthos and Aramis, inseparable friends who live by the motto "all for one, one for all" ("tous pour un, un pour tous"), a motto which is first put forth by d'Artagnan. The story of d'Artagnan is continued in Twenty Years After and The Vicomte of Bragelonne: Ten Years Later. Those three novels by Dumas are together known as the d'Artagnan Romances. The Three Musketeers was first published in serial form in the newspaper Le Si cle between March and July 1844. When Alexandre Dumas wrote The Three Musketeers, he also was a practising fencer and like many other French gentlemen of his generation he attended the schools for Canne de combat and Savate of Michel Casseux, Charles Lecour and Joseph Charlemont (who had been a regular fencing instructor in the French army).
Mouths Don't Speak by Katia D. Ulysse
Synopsis: No one was prepared for the massive earthquake that struck Haiti in 2010, taking over a quarter-million lives, and leaving millions more homeless. Three thousand miles away, Jacqueline Florestant mourns the presumed death of her parents, while her husband, a former US Marine and combat veteran, cares for their three-year-old daughter as he fights his own battles with acute PTSD.
Horrified and guilt-ridden, Jacqueline returns to Haiti in search of the proverbial "closure." Unfortunately, the Haiti she left as a child twenty-five years earlier has disappeared. Her quest turns into a tornado of deception, desperation, and more death. So Jacqueline holds tightly to her daughter–the only one who must not die.
The Roving Tree by Elsie Augustave
Synopsis: Elsie Augustave's debut novel explores multiple themes: separation and loss, rootlessness, the impact of class privilege and color consciousness, and the search for cultural identity. The central character, Iris Odys, is the offspring of Hagathe, a Haitian maid, and a French-educated mulatto father, Brahami, who cares little about his child. Hagathe, who had always dreamed of a better life for her child, is presented with the perfect opportunity when Iris is five years old. Adopted by a white American couple, Iris is transported from her tiny remote Haitian village, Monn Neg, to an American suburb.
The Roving Tree illuminates how imperfectly assimilated adoptees struggle to remember their original voices and recapture their personal histories and cultural legacy. Set between two worlds—suburban America and Haiti under Papa Doc's repressive regime—the novel offers a unique literary glimpse into the deeply entrenched class discrimination and political repression of Haiti during the Duvalier era, along with the subtle but nonetheless dangerous effects of American racism.
Young Adult Fiction
Dear Haiti, Love Alaine by Maika and Maritza Moulite
Synopsis: Alaine Beauparlant has heard about Haiti all her life…
But the stories were always passed down from her dad–and her mom, when she wasn't too busy with her high-profile newscaster gig. But when Alaine's life goes a bit sideways, it's time to finally visit Haiti herself.
What she learns about Haiti's proud history as the world's first black republic (with its even prouder people) is one thing, but what she learns about her own family is another. Suddenly, the secrets Alaine's mom has been keeping, including a family curse that has spanned generations, can no longer be avoided.
It's a lot to handle, without even mentioning that Alaine is also working for her aunt's nonprofit, which sends underprivileged kids to school and boasts one annoyingly charming intern.
But if anyone can do it all…it's Alaine.
The Field Guide to the North American Teenager by Ben Philippe
Synopsis: Norris Kaplan is clever, cynical, and quite possibly too smart for his own good. A black French Canadian, he knows from watching American sitcoms that those three things don't bode well when you are moving to Austin, Texas. Plunked into a new high school and sweating a ridiculous amount from the oppressive Texas heat, Norris finds himself cataloging everyone he meets: the Cheerleaders, the Jocks, the Loners, and even the Manic Pixie Dream Girl. Making a ton of friends has never been a priority for him, and this way he can at least amuse himself until it's time to go back to Canada, where he belongs.
Yet, against all odds, those labels soon become actual people to Norris. Be it loner Liam, who makes it his mission to befriend Norris, or Madison the beta cheerleader, who is so nice that it has to be a trap. Not to mention Aarti the Manic Pixie Dream Girl, who might, in fact, be a real love interest in the making. He even starts playing actual hockey with these Texans.
But the night of the prom, Norris screws everything up royally. As he tries to pick up the pieces, he realizes it might be time to stop hiding behind his snarky opinions and start living his life—along with the people who have found their way into his heart.
American Street by Ibi Zoboi
Synopsis: The rock in the water does not know the pain of the rock in the sun.
On the corner of American Street and Joy Road, Fabiola Toussaint thought she would finally find une belle vie—a good life.
But after they leave Port-au-Prince, Haiti, Fabiola's mother is detained by U.S. immigration, leaving Fabiola to navigate her loud American cousins, Chantal, Donna, and Princess; the grittiness of Detroit's west side; a new school; and a surprising romance, all on her own.
Just as she finds her footing in this strange new world, a dangerous proposition presents itself, and Fabiola soon realizes that freedom comes at a cost. Trapped at the crossroads of an impossible choice, will she pay the price for the American dream?
Yes, We're Haitian by Alain Patron
Synopsis: Junior seemingly has a perfect Haitian life. A stellar academic record, a burgeoning medical career, and the respect of everybody he meets. However, something is missing, which motivates Junior to find himself outside of his Haitian family's expectations. Junior's journey takes him from hilarity to Haiti, and everywhere in-between with a cast of characters that can only be described by one word: FAMILY.
The depiction of Haitian people in mainstream media has been perpetuated by stereotypes that are inaccurate and disrespectful. Haitian people are the personification of pride, resilience, and respect. Yes, We're Haitian is a novel that serves as an instrument of truth in order to humanize Haitian people by dismantling clichés, and educating the world about Haitian culture with a hilarious story about family and loyalty.
Truly, Madly, Royally by Debbie Rigaud
Synopsis: Fiercely independent and smart, Zora Emerson wants to change the world. She's excited to be attending a prestigious summer program, even if she feels out of place among her privileged, mostly white classmates. So she's definitely not expecting to feel a connection to Owen, who's an actual prince of an island off the coast of England. But Owen is funny, charming…and undeniably cute. Zora can't ignore the chemistry between them. When Owen invites Zora to be his date at his big brother's big royal wedding, Zora is suddenly thrust into the spotlight, along with her family and friends. Everyone is talking about her, in real life and online, and while Owen is used to the scrutiny, Zora's not sure it's something she can live with. Can she maintain her sense of self while moving between two very different worlds? And can her feelings for Owen survive and thrive in the midst of the crazy? Find out in this charming romantic comedy that's like The Princess Diaries for a new generation.
Children's Fiction
Soup Joumou by Carline Smothers
Synopsis: In Mmmmm! Soup Joumou! young Carline learns the significance of Soup Joumou and why it plays a vital role in our history.
Princess Maniya by Saonha Lyrvole Jean Baptiste
Synopsis: A reimagining of the traditional princess story, Princess Maniya offers a glimpse into the powerful female archetype that is a mainstay of Haitian culture. Set in Haiti during the reign of King Melenik, our brave heroine Princess Maniya goes hunting with her father. The original Haitian Creole text is displayed next to the English so that this beautiful language and rich culture can be preserved and passed down from one generation to the next. Sure to delight families of the Haitian diaspora, this story will also expand the mind of any child who is curious about other cultures.
This story is written and illustrated by Haitian women living in the community. In March and June of 2017, NABU, with funding from USAID, hosted a series of Writers Workshops in Port-au-Prince with the purpose of creating original children's books in Haitian Creole. The Writers Workshops were created as part of our goal to address the need for children's books in mother tongue languages. NABU and our director in Haiti, Fran oise Thybulle, recruited Haitian authors and illustrators to participate. These sessions were our first and we have since also had workshops in Rwanda to create original books in Kinyarwanda. The two sessions in Haiti each hosted 25 Haitian authors and illustrators and created a total of 259 titles. It is out of these workshops that an initial collection of 16 was borne. We intend to release two books every month from the colleciton, and all of the profits from the sale of this book will go to support local authors and illustrators and NABU reading programs in Haiti.
NABU is a New York-based 501(c)(3) nonprofit organization, with a mission to solve the imbalance in children's book creation and distribution, so all children can read and rise to their full potential.
NABU Publishing creates children's stories with a cultural point of view. Children who are exposed to multiple cultures and languages are more likely to become lifelong learners and compassionate global citizens. We believe that culturally-relevant stories that reflect who children see when they look in the mirror help to develop healthy self esteem and a sense of pride, and children who learn about cultures different from their own are much more likely to develop into adults who value the dignity of human life and making the world a better place for all. This series of NABU stories are bilingual, written in both Haitian Creole and English, making them ideal for exposing young children to new cultures or helping children of the diaspora connect to the culture of their families.
I Want to Ride the Tap Tap by Danielle Joseph
Synopsis: Writer Danielle Joseph and illustrator Olivier Ganthier's I Want to Ride the Tap Tap is a day-of-the-week picture book about a Black family who ride the taxi-bus service–called a tap tap–in Haiti, and the fascinating people they meet along the way, illustrated by a Haitian artist known for his vibrant street art.

Monday through Saturday, Claude and Manman walk Papa to the tap tap stop, where Claude meets all sorts of interesting people waiting for the tap tap. Claude wants to join Papa, but Claude has classes at school and chores at home…
On Sunday, Manman and Papa have a surprise for Claude–a ride on the tap tap They go to the beach, where they meet a lady selling mangoes, a fisherman, a straw-hat maker, a steel drummer, and an artist. They show Claude how to fish, make hats, play the drums, and paint.
With Haitian Creole words sprinkled throughout and a glossary at the end, I Want to Ride the Tap Tap is a warm and lively portrayal of everyday life in Haiti.
Nonfiction
Hunger: A Memoir of (My) Body by Roxane Gay
Synopsis: From the bestselling author of Bad Feminist: a searingly honest memoir of food, weight, self-image, and learning how to feed your hunger while taking care of yourself
"I ate and ate and ate in the hopes that if I made myself big, my body would be safe. I buried the girl I was because she ran into all kinds of trouble. I tried to erase every memory of her, but she is still there, somewhere. . . . I was trapped in my body, one that I barely recognized or understood, but at least I was safe."
In her phenomenally popular essays and long-running Tumblr blog, Roxane Gay has written with intimacy and sensitivity about food and body, using her own emotional and psychological struggles as a means of exploring our shared anxieties over pleasure, consumption, appearance, and health. As a woman who describes her own body as "wildly undisciplined," Roxane understands the tension between desire and denial, between self-comfort and self-care. In Hunger, she explores her own past—including the devastating act of violence that acted as a turning point in her young life—and brings readers along on her journey to understand and ultimately save herself.
With the bracing candor, vulnerability, and power that have made her one of the most admired writers of her generation, Roxane explores what it means to learn to take care of yourself: how to feed your hungers for delicious and satisfying food, a smaller and safer body, and a body that can love and be loved—in a time when the bigger you are, the smaller your world becomes.
Moving Forward: A Story of Hope, Hard Work, and the Promise of America by Karine Jean-Pierre
Synopsis: An inspiring memoir from Karine Jean-Pierre, Senior Advisor to Presidential candidate Joe Biden and Chief of Staff for VP candidate Kamala Harris, chronicling her path from New York's Haitian community to working in the Obama White House, and offering a blueprint for anyone who wants to change the face of politics.
Most political origin stories have the same backbone. A bright young person starts reading the Washington Post in elementary school. She skips school to see a presidential candidate. In middle school she canvasses door-to-door. The story can be intimidating. It reinforces the feeling that politics is a closed system: if you weren't participating in debate club, the Young Democrats and Model UN you have no chance.
Karine Jean-Pierre's story breaks the mold. In Moving Forward, she tells how she got involved, showing how politics can be accessible to anyone, no matter their background. In today's political climate, the need for all of us to participate has never been more crucial. This book is her call to arms for those who know that now is the time for us to act.
Purpose: An Immigrant's Story by Wyclef Jean
Synopsis: Purpose is Wyclef Jean's powerful story of a life rooted in struggle, soul-searching, art, and survival. In his own voice the multi-platinum musician and producer shares everything, from his childhood in Haiti to his rise to the top of the American music scene. For the first time ever, Wyclef reveals the behind-the-scenes story of the Fugees, including his partnership with Lauryn Hill and Pras Michel, the details of their award-winning album The Score, and the solo career that followed. For fans of early Wyclef efforts like The Carnival or later albums like From the Hut, To the Projects, To the Mansion—and for fans of books like Jay-Z's Decoded or Russell Simmons' Super Rich—Wyclef's Purpose is an inspiring, one-of-a-kind look at one of the world's most talented artists.
Dear Haiti: You Aren't Who They Think You Are by Martine Harris
Synopsis: Belonging means acceptance as a member or part. As a child of a Haitian mother and African American father growing up in the suburbs of California and Colorado, Martine lacked just that; a sense of belonging. At twenty-two years old, despite what the media portrayed and against her family's wishes, Martine's curiosity about her self-identity led her to move to the country that bred her mother. Dear Haiti is a compilation of Martine's journal entries where she documented the awkward, controversial, humorous, and catastrophic events as she discovered the unfamiliar country which is her home.
Haiti: The First Black Republic by Frantz Derenoncourt Jr.
Synopsis: Haiti The First Black Republic tells the story of the fall of Haiti, and the subsequent rise that led Haiti becoming the first black republic. The instrumental war heroes and the actions of the Haitian people to fight and gain independence from European and French rule are highlighted in this illustrative historical work. Haiti: The First Black republic is a powerful historical guide; and simply a must read.
Twelve Unending Summers: Memoir of an Immigrant Child by Cholet Kelly Josue
Synopsis: Bahamian. Haitian. American. Where can I fully belong?
At age sixteen, Cholet Josué arrived on the shores of Miami in a wooden boat—and immediately put the past behind him. More than two decades later, the elusive question of identity pursues him, forcing him to confront a difficult truth: the cultures that formed him have each indelibly stamped his soul. Courageously, Cholet dismantles his own story to uncover a way to unashamedly, unabashedly fit in with three different worlds while belonging to none.
Honest and compelling, Twelve Unending Summers is a deeply personal journey that resonates with the universal human need to find a home and embrace the legacy of family heritage.
If you're looking for more book recommendations and you want to support Black creators, check out The StoryGraph. It's a website created by a Black woman that's similar to Goodreads where you can track your reading and find books similar to what you've read before, but it also has some really cool features like pie charts for the types of books you read and a break down of your interests. The site is constantly evolving in response to user feedback and it's a great alternative to Goodreads (which is owned by Amazon).
If you'd like to see more bookish content with a focus on Black authors, check out my instagram @raethereviewer and my blog Rae's Reads and Reviews. My focus is on books by BIPOC and other marginalized communities.