By Rachelle Saint Louis
In continuation of our Black joy series, here are ten books with Black joy at the center of their stories. These are all works of fiction by Black authors that showcase the nuance of life as a Black person while making time for the joys of it. I've made sure to include a mix of genres and age ranges so you may end up finding something for yourself or a loved one. A few are even ones I found through searching for books for my younger cousins. If you'd like to know more about some of these, click on their titles to check out my full reviews.
Opposite of Always by Justin A. Reynolds
Genres: Young Adult Contemporary, Sci-Fi
Synopsis: Jack Ellison King. King of Almost.
He almost made valedictorian.
He almost made varsity.
He almost got the girl . . .
When Jack and Kate meet at a party, bonding until sunrise over their mutual love of Froot Loops and their favorite flicks, Jack knows he's falling—hard. Soon she's meeting his best friends, Jillian and Franny, and Kate wins them over as easily as she did Jack. Jack's curse of almost is finally over.
But this love story is . . . complicated. It is an almost happily ever after. Because Kate dies. And their story should end there. Yet Kate's death sends Jack back to the beginning, the moment they first meet, and Kate's there again. Beautiful, radiant Kate. Healthy, happy, and charming as ever. Jack isn't sure if he's losing his mind. Still, if he has a chance to prevent Kate's death, he'll take it. Even if that means believing in time travel. However, Jack will learn that his actions are not without consequences. And when one choice turns deadly for someone else close to him, he has to figure out what he's willing to do—and let go—to save the people he loves.
The Last Last Day of Summer by Lamar Giles
Genres: Middle Grade Adventure, Sci-Fi, Fantasy
Synopsis: When two adventurous cousins accidentally extend the last day of summer by freezing time, they find the secrets hidden between the unmoving seconds, minutes, and hours are not the endless fun they expected.
Otto and Sheed are the local sleuths in their zany Virginia town, masters of unraveling mischief using their unmatched powers of deduction. And as the summer winds down and the first day of school looms, the boys are craving just a little bit more time for fun, even as they bicker over what kind of fun they want to have. That is, until a mysterious man appears with a camera that literally freezes time. Now, with the help of some very strange people and even stranger creatures, Otto and Sheed will have to put aside their differences to save their town—and each other—before time stops for good.
You can also check out my interview with Lamar Giles to see what he has to say about writing stories centered on Black boy joy.
You Should See Me in a Crown by Leah Johnson
Genres: Young Adult Contemporary, LGBTQIA+
Synopsis: Liz Lighty has always believed she's too black, too poor, too awkward to shine in her small, rich, prom-obsessed midwestern town. But it's okay — Liz has a plan that will get her out of Campbell, Indiana, forever: attend the uber-elite Pennington College, play in their world-famous orchestra, and become a doctor.
But when the financial aid she was counting on unexpectedly falls through, Liz's plans come crashing down . . . until she's reminded of her school's scholarship for prom king and queen. There's nothing Liz wants to do less than endure a gauntlet of social media trolls, catty competitors, and humiliating public events, but despite her devastating fear of the spotlight she's willing to do whatever it takes to get to Pennington.
The only thing that makes it halfway bearable is the new girl in school, Mack. She's smart, funny, and just as much of an outsider as Liz. But Mack is also in the running for queen. Will falling for the competition keep Liz from her dreams . . . or make them come true?
Shuri: A Black Panther Novel by Nic Stone
Genre: Middle Grade Sci-Fi
Synopsis: From New York Times bestselling author Nic Stone comes an all-new upper middle grade series based on one of the Marvel Universe's break-out characters— Shuri, from Black Panther!
An original, upper-middle-grade series starring the break-out character from the Black Panther comics and films: T'Challa's younger sister, Shuri! Crafted by New York Times bestselling author Nic Stone. Shuri is a skilled martial artist, a genius, and a master of science and technology. But, she's also a teenager. And a princess. This story follows Shuri as she sets out on a quest to save her homeland of Wakanda.
For centuries, the Chieftain of Wakanda (the Black Panther) has gained his powers through the juices of the Heart-Shaped Herb. Much like Vibranium, the Heart-Shaped Herb is essential to the survival and prosperity of Wakanda. But something is wrong. The plants are dying. No matter what the people of Wakanda do, they can't save them. And their supply is running short. It's up to Shuri to travel from Wakanda in order to discover what is killing the Herb, and how she can save it, in the first volume of this all-new, original adventure.
Get a Life, Chloe Brown by Talia Hibbert
Genres: Adult Romance, Contemporary
Synopsis: Chloe Brown is a chronically ill computer geek with a goal, a plan, and a list. After almost—but not quite—dying, she's come up with seven directives to help her "Get a Life", and she's already completed the first: finally moving out of her glamorous family's mansion. The next items?
Enjoy a drunken night out. Ride a motorcycle. Go camping. Have meaningless but thoroughly enjoyable sex. Travel the world with nothing but hand luggage. And… do something bad.
But it's not easy being bad, even when you've written step-by-step guidelines on how to do it correctly. What Chloe needs is a teacher, and she knows just the man for the job.
Redford 'Red' Morgan is a handyman with tattoos, a motorcycle, and more sex appeal than ten-thousand Hollywood heartthrobs. He's also an artist who paints at night and hides his work in the light of day, which Chloe knows because she spies on him occasionally. Just the teeniest, tiniest bit.
But when she enlists Red in her mission to rebel, she learns things about him that no spy session could teach her. Like why he clearly resents Chloe's wealthy background. And why he never shows his art to anyone. And what really lies beneath his rough exterior…
Dear Haiti, Love Alaine by Maika and Maritza Moulite
Genre: Young Adult Contemporary
Synopsis: Co-written by sisters Maika and Maritza Moulite, and told in epistolary style through letters, articles, emails, and diary entries, this exceptional debut novel captures a sparkling new voice and irrepressible heroine in a celebration of storytelling sure to thrill fans of Nicola Yoon, Ibi Zoboi and Jenna Evans Welch!
When a school presentation goes very wrong, Alaine Beauparlant finds herself suspended, shipped off to Haiti and writing the report of a lifetime…
You might ask the obvious question: What do I, a seventeen-year-old Haitian American from Miami with way too little life experience, have to say about anything?
Actually, a lot.
Thanks to "the incident" (don't ask), I'm spending the next two months doing what my school is calling a "spring volunteer immersion project." It's definitely no vacation. I'm toiling away under the ever-watchful eyes of Tati Estelle at her new nonprofit. And my lean-in queen of a mother is even here to make sure I do things right. Or she might just be lying low to dodge the media sharks after a much more public incident of her own…and to hide a rather devastating secret.
All things considered, there are some pretty nice perks…like flirting with Tati's distractingly cute intern, getting actual face time with my mom and experiencing Haiti for the first time. I'm even exploring my family's history—which happens to be loaded with betrayals, superstitions and possibly even a family curse.
You know, typical drama. But it's nothing I can't handle.
Charming as a Verb by Ben Philippe
Genres: Young Adult Contemporary, Romance
Synopsis: Henri "Halti" Haltiwanger can charm just about anyone. He is a star debater and popular student at the prestigious FATE academy, the dutiful first-generation Haitian son, and the trusted dog walker for his wealthy New York City neighbors. But his easy smiles mask a burning ambition to attend his dream college, Columbia University.
There is only one person who seems immune to Henri's charms: his "intense" classmate and neighbor Corinne Troy. When she uncovers Henri's less-than-honest dog-walking scheme, she blackmails him into helping her change her image at school. Henri agrees, seeing a potential upside for himself.
Soon what started as a mutual hustle turns into something more surprising than either of them ever bargained for. . . .
This is a sharply funny and insightful novel about the countless hustles we have to keep from doing the hardest thing: being ourselves.
Ben Philippe's debut novel, The Field Guide to the North American Teenager, is also great.
Raybearer by Jordan Ifueko
Genre: Young Adult Fantasy
Synopsis: Nothing is more important than loyalty.
But what if you've sworn to protect the one you were born to destroy?
Tarisai has always longed for the warmth of a family. She was raised in isolation by a mysterious, often absent mother known only as The Lady. The Lady sends her to the capital of the global empire of Aritsar to compete with other children to be chosen as one of the Crown Prince's Council of 11. If she's picked, she'll be joined with the other Council members through the Ray, a bond deeper than blood.
That closeness is irresistible to Tarisai, who has always wanted to belong somewhere. But The Lady has other ideas, including a magical wish that Tarisai is compelled to obey: Kill the Crown Prince once she gains his trust. Tarisai won't stand by and become someone's pawn—but is she strong enough to choose a different path for herself?
I'm currently reading this with a few friends and it's super cool. Even if you don't usually read fantasy, I'd still recommend checking it out.
Butterfly Fish by Irenosen Okojie
Genre: Fantasy, Magical Realism
Synopsis: With wry humour and a deft touch, Butterfly Fish, the outstanding first novel by a stunning new writer, is a work of elegant and captivating storytelling. A dual narrative set in contemporary London and 18th century Benin in Africa, the book traverses the realms of magic realism with luminous style and graceful, effortless prose.
Let Me Hear a Rhyme by Tiffany D. Jackson
Genres: Young Adult Contemporary, Historical Fiction
Synopsis: In this standalone novel, Tiffany D. Jackson tells the story of three Brooklyn teens who plot to turn their murdered friend into a major rap star by pretending he is still alive.
Biggie Smalls was right. Things done changed. But that doesn't mean that Quadir and Jarrell are okay letting their best friend Steph's tracks lie forgotten in his bedroom after he's killed—not when his beats could turn any Bed-Stuy corner into a celebration, not after years of having each other's backs.
Enlisting the help of Steph's younger sister, Jasmine, Quadir and Jarrell come up with a plan to promote Steph's music under a new rap name: The Architect. Soon, everyone in Brooklyn is dancing to Steph's voice. But then his mixtape catches the attention of a hotheaded music rep and—with just hours on the clock—the trio must race to prove Steph's talent from beyond the grave.
Now, as the pressure—and danger—of keeping their secret grows, Quadir, Jarrell, and Jasmine are forced to confront the truth about what happened to Steph. Only each has something to hide. And with everything riding on Steph's fame, together they need to decide what they stand for before they lose everything they've worked so hard to hold on to—including each other.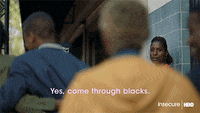 If you're looking for more book recommendations and you want to support Black creators, check out The StoryGraph. It's a website created by a Black woman that's similar to Goodreads where you can track your reading and find books similar to what you've read before, but it also has some really cool features like pie charts for the types of books you read and a break down of your interests. The site is constantly evolving in response to user feedback and it's a great alternative to Goodreads (which is owned by Amazon).
If you'd like to see more bookish content with a focus on Black authors, check out my instagram @raethereviewer and my blog Rae's Reads and Reviews. My focus is on books by BIPOC and other marginalized communities.